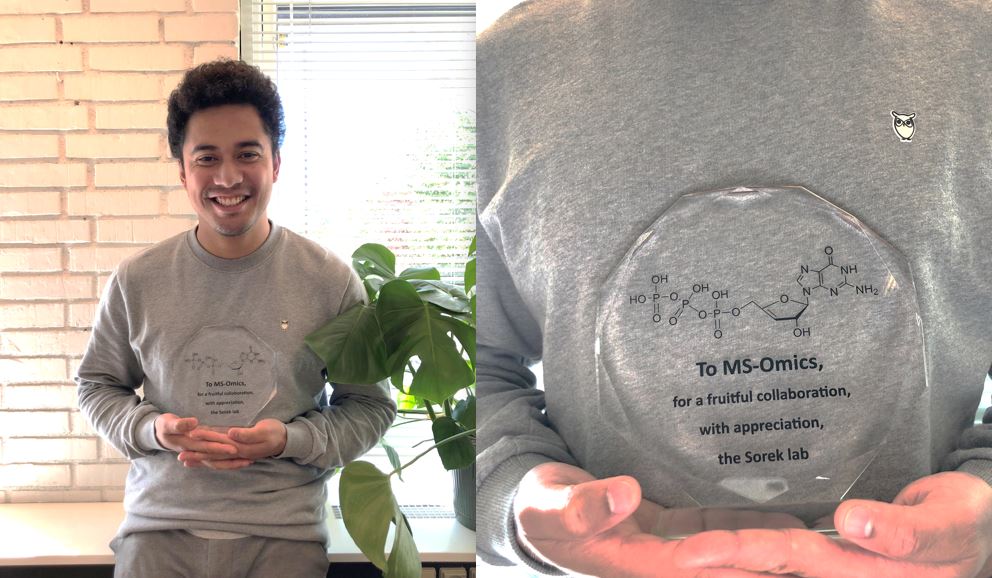 FINDING A POTENTIAL REPOSITORY OF NATURAL ANTIVIRAL COMPOUNDS PRODUCED BY BACTERIAL IMMUNE SYSTEMS.
FIRST OF ALL, CONGRATULATIONS!
We want to congratulate Rotem Sorek and colleagues on the publication of their article in Nature: "Prokaryotic viperins produce diverse antiviral molecules".
MS-Omics had the pleasure to contribute with our MS/MS experiments and help with data analysis to this study performed by the Weizmann Institute of Science.
We want to say thank you, Rotem Sorek and team, for a great cooperation and of course for the beautiful sculpture, which we were very happy and proud to receive.
WHAT MORE HAS MS-OMICS TO OFFER.
In this study MS-Omics employed our high resolution Thermo Fisher Scientific Q Exactive HF instruments with dedicated methods for nucleotide characterization. These methods complement our range of metabolomics methods. Feel free to contact us with questions about our nucleotide characterizations or our metabolomics methods.
To keep up with us, remember to follow us on our company page on LinkedIn
Know more about our services – go to https://www.msomics.com/metabolomics-service/
Have a nice day ?
MS-Omics – Your metabolomics service experts
#YourMetabolomicsServiceExperts#msomics#PioneeringTogether